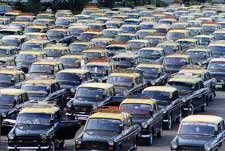 One of 3M's cousins recently came back to Mumbai for a month long holiday from US. Staying at her Matunga apartment, she decided to inculcate a regime of morning walks @ Shivaji Park to shed a few kilos before heading home. To avoid the murky footpaths on the way, she decided to use the L
egendary Mumbai Taxis
. Much to her chagrin, most of the taxiwallahs refused to ply such a short distance.
Then her
Gujarati neighbour
taught her a trick that worked wonders. It was a method that was "foolproof". And what was that? Speak to the Taxiwallah in
MARATHI
… Surprisingly, the trick worked for the entire month!
3M is amused
that a Gujarati advised a Marathi Manoos about using the T-factor to one's advantage!